ACDM AI Symposium Report 2023
After the success of the ACDM AI Symposium last year, the ACDM organised a second AI Symposium on 20-21 September.
Last year, Marcus Schwabedissen (COO and Senior Executive Consultant at QFINITY) gave a presentation. This year, however, he helped with the planning and preparation as a member of the Steering Committee.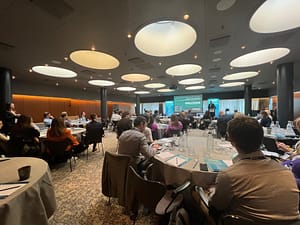 The event was very well attended and had a broad programme of presentations, field reports and discussions.
Lifesciences, service providers and solution providers were represented, so that excellent networking could take place.
Following this success, a third Symposium is already being planned for 2024.
For information on other events with and by QFINITY, click here.
For more events from the ACDM, click here.
https://mlsqau6zetur.i.optimole.com/cb:frAi.c2d9/w:auto/h:auto/q:mauto/f:best/https://q-finity.de/wp-content/uploads/2021/03/q-finity_schriftzug_orange.png
0
0
Maike Henrichmann
https://mlsqau6zetur.i.optimole.com/cb:frAi.c2d9/w:auto/h:auto/q:mauto/f:best/https://q-finity.de/wp-content/uploads/2021/03/q-finity_schriftzug_orange.png
Maike Henrichmann
2023-10-08 12:20:02
2023-10-08 12:20:02
ACDM AI Symposium Report 2023